First-Degree Messaging Sequence Sent to the Same Prospect more than once
In any automation platform, double messages are a common thing. It happens when the software sends the same message to the same prospect. Please refer to the image below: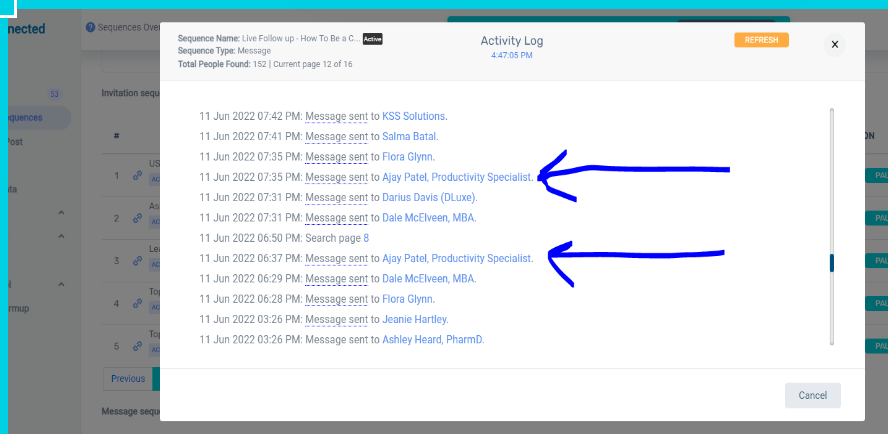 HERE ARE A FEW REASONS WHY THIS HAPPENS:
1. If the same person, appears twice on different pages (THIS IS A LINKEDIN ISSUE) of your search URL, the software will still send invites to those prospects. Our messaging sequence has no blocklist capabilities. This allows our users to send follow-up messages to their prospects as needed.

2. If you are running an invitation and a messaging sequence at the same time with the same audience. The software will not send invites to the same person, but will still send a message if the prospect appeared on the messaging sequence that you created. This can also cause the "results list order" to change, which can cause the duplication of a message to someone who had already received it.


HOW TO AVOID THIS FROM HAPPENING:
1. Make sure to double-check your search URL. Try to scan through your prospects and if you are able to see duplicates, tweak your filters accordingly.

2. Creating unique messages for your sequences. Not only will this help make your campaigns stand out, but this will also prevent you from sending the same message to the same prospect in any case they appear twice on your searches.

3. DO NOT run the same message for an invitation sequence and a messaging sequence at the same time.

4. Monitor your sequences frequently. Note that any changes that you make, will affect how your sequences are running.


Note: If you still experience these issues, please don't hesitate to contact us at support@kennected.io or message us through our Live Chat inside the software.