Use KennectedReach reports for better insights into your campaigns.
KennectedReach is an exceptional piece of software for automating your entire marketing campaign processes. You can send hundreds of messages, emails, and LinkedIn connection requests even outside of working hours, seven days a week.
With KennectedReach reports, you can gain insights into the workings behind KennectedReach's automation. KennectedReach will do its own thing within the scopes of your parameters, and will create detailed reports of its process.
To access your KennectedReach reports, simply click on the "Reports" tab on the left-hand side of your dashboard. This will display a screen full of graphs and figures.

By scrolling down the middle section, you'll find reports of your LinkedIn outreach, including graphs of connection requests, messages, InMails, and profiles viewed. These will give you statistics and figures on KennectedReach's actions, and will display how frequently KennectedReach performs these
thr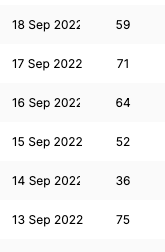 oughout the week.
You can also filter and change these graphs according to your various campaigns. To do this, simply click on the filter you want to apply from the menu on the right-hand side. This will also let you filter by time period.
You can export your reports as CSV files using the button in the top-right corner, or get more detailed reports using the button just next to this.