Got some hot leads and want to forward them on? Here's how.
Once you've assigned your prospects the "lead" label, things start getting exciting! You might now find that you want to forward your leads to a colleague, or another email address, especially if there's too many to handle by yourself!
It's not as difficult as you might think to forward your leads on, simply follow the steps below:
1. On your home dashboard, head to your "Inbox" - you can access this from the panel on the left-h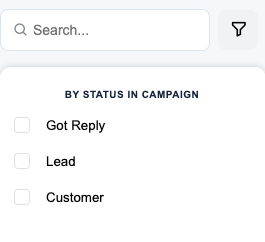 anded side
2. Next, select the filter icon, which is adjacent to the search bar at the top of your messages
3. Scroll down until you find "Lead". Check the box to bring up all the prospects marked as a lead in your inbox.
4. Click on the lead you want to forward, then in the top right-hand corner you'll see a symbol with three horizontal lines.
5. Click on this symbol

and then click "Forward to Email"