It's easy to share insights on your prospects!
By creating a CSV report on a prospect, you can share information and insights on them with any of your colleagues. Exporting their data can streamline your intra-business operations, improving communication and correspondence between employees.
If you're looking to share prospect details, you'll want to check out this guide on how to create and send a CSV file of their information. Luckily, it's really easy to do. All you have to do is follow the simple steps below.
1. Firstly, head to the "Prospects" tab on the left-hand side of your dashboard.

2. Find the prospect or prospects that you want to export as a CSV file, and check the box next to their name(s).


3. At the top, select "Export" and then "Export selected."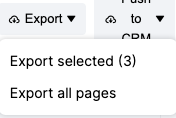 4. Now, enter the email you want to send the CSV to, and it's done!