As you create more and more deals, your pipeline will build up. Here's what to expect from your pipeline.
With any luck, you'll be opening and closing several deals in no time with KennectedReach! After you create your deals, they'll be presented to you in a sequence of stages.
You can access your pipeline through the "Pipelines" tab from the menu on the left-hand side. Here's what you can expect a typical pipeline to look like: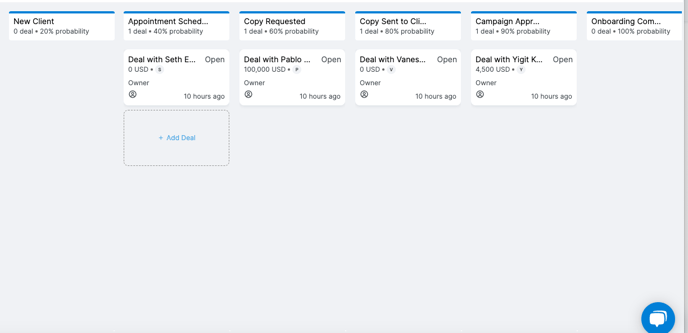 As you can see, you'll have a variety of different deals spread over a number of stages. Beginning with the early appointment stages, if you scroll across you'll find your settled deals (whether they're won or lost).
As a deal progresses, you'll just want to drag the respective box across as it moves through the stages. If more details emerge that you want to add, such as prospects or prices, you can always click on the deal you want to edit and input your changes.
You can update and create your deals within KennectedReach itself, or from your integrated CRM that you've linked, such as HubSpot.