Wondering how you can create hyper-targeted searches using LinkedIn?
Keep reading, we did our research and you'll find a list of over 5,000 keywords for Industries, Services, and Titles you can target when creating your audience for a CloudKennect Sequence.
(Last Edited April 11th, 2022)
In this article we will review:
Basic Filters
Filter by Titles
Filter by Industries and Services?
Let's start with the basics.
Kennected requires you to use the following 4 filters:
Keywords in the search bar (Boolean Search)
Filter by People
Location (State or City)
Degree of Connection (1st or 2nd)

---
Your search should be less than 1K if using a regular LinkedIn Search, when using Sales Navigator the max is 2.5K
Adding more than 1 state to your search is possible, just be mindful of their time zone.
---
Filter by Titles
Targeting decision-makers will make your sequences efficient.
According to the Social Selling pillars, it will also help improve the score for Building Relationships.

Here is a list to start with:
(C-Suite)
CEO—
COO—Chief Operating Officer
CFO—Chief Financial Officer
CIO—Chief Information Officer
CTO—Chief Technology Officer
CMO—Chief Marketing Officer
CHRO—Chief Human Resources Officer
CDO—Chief Data Officer
CPO—Chief Product Officer
CCO—Chief Customer Officer
Adding Titles in the Keywords under the All Filters tab will give you a list of profiles with their current experience as the title you are looking for. If this filter is not applied you will have a list of profiles that do not match your search criteria.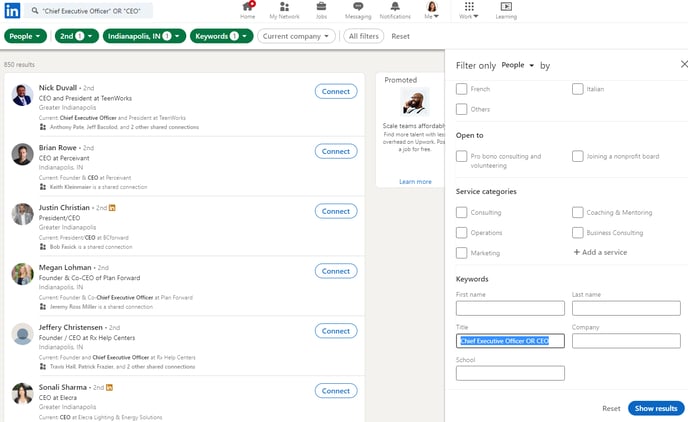 Check out the list of titles Joblist compiled in the following link (Click Here)
---
Filter by Industries and Services?
Select any predetermined Industries and Services in the "All Filters" tab


LinkedIn Industries:
Accounting
Airlines/Aviation
Alternative Dispute Resolution
Alternative Medicine
Animation
Apparel & Fashion
Architecture & Planning
Arts and Crafts
Automotive 
Aviation & Aerospace
Banking
Biotechnology 
Broadcast Media
Building Materials
Business Supplies and Equipment
Capital Markets
Chemicals
Civic & Social Organization
Civil Engineering
Commercial Real Estate
Computer & Network Security
Computer Games
Computer Hardware 
Computer Networking
Computer Software 
Construction
Consumer Electronics
Consumer Goods
Consumer Services
Cosmetics
Dairy
Defense & Space 
Design
Education Management
E-Learning
Electrical/Electronic Manufacturing
Entertainment 
Environmental Services
Events Services
Executive Office
Facilities Services
Farming
Financial Services
Fine Art
Fishery
Food & Beverages
Food Production
Fund-Raising
Furniture
Gambling & Casinos
Glass, Ceramics & Concrete
Government Administration
Government Relations
Graphic Design
Health, Wellness and Fitness 
Higher Education
Hospital & Health Care 
Hospitality
Human Resources 
Import and Export
Individual & Family Services
Industrial Automation
Information Services
Information Technology and Services 
Insurance 
International Affairs
International Trade and Development
Internet 
Investment Banking
Investment Management
Judiciary
Law Enforcement
Law Practice 
Legal Services
Legislative Office
Leisure, Travel & Tourism
Libraries
Logistics and Supply Chain
Luxury Goods & Jewelry 
Machinery
Management Consulting
Maritime
Market Research
Marketing and Advertising
Mechanical or Industrial Engineering
Media Production
Medical Devices 
Medical Practice 
Mental Health Care 
Military 
Mining & Metals
Motion Pictures and Film
Museums and Institutions
Music 
Nanotechnology
Newspapers
Non-Profit Organization Management
Oil & Energy
Online Media
Outsourcing/Offshoring 
Package/Freight Delivery
Packaging and Containers
Paper & Forest Products
Performing Arts
Pharmaceuticals
Philanthropy
Photography
Plastics
Political Organization
Primary/Secondary Education
Printing
Professional Training & Coaching
Program Development
Public Policy
Public Relations and Communications
Public Safety
Publishing 
Railroad Manufacture
Ranching
Real Estate
Recreational Facilities and Services
Religious Institutions
Renewables & Environment
Research
Restaurants
Retail
Security and Investigations
Semiconductors
Shipbuilding
Sporting Goods
Sports
Staffing and Recruiting 
Supermarkets
Telecommunications 
Textiles
Think Tanks
Tobacco
Translation and Localization
Transportation/Trucking/Railroad
Utilities
Venture Capital & Private Equity
Veterinary
Warehousing 
Wholesale
Wine and Spirits
LinkedIn Services:

Accounting
Accounting
Bookkeeping
Financial Accounting
Financial Advisory
Mortgage Lending
Personal Tax Planning
Small Business Tax
Tax Preparation

Coaching & Mentoring 
Career Development Coaching
Change Management
Corporate Training
Diversity & Inclusion
Executive Coaching
Interview Preparation
Leadership Development
Life Coaching
Negotiation
Public Speaking
Resume Review
Resume Writing
Team Building
Training


Consulting 
Advertising
Brand Consulting
Business Consulting
Educational Consulting
Email Marketing
Environmental Consulting
Finance Consulting
HR Consulting
Healthcare Consulting
Legal Consulting
Management Consulting
Marketing Consulting
Nonprofit Consulting
Political Consulting
Pricing Strategy
Project Management
Public Relations
Search Engine Marketing (SEM)
Search Engine Optimization (SEO)
Tax Advisory


Design 
3D Design
Ad Design
Animation
Brand Design
Engineering Design
Graphic Design
Illustration
Industrial Design
Interaction Design
Interior Design
Logo Design
Packaging Design
Presentation Design
Print Design
UX Research
User Experience Design (UED)
Video Editing
Video Production
Videography
Visual Design
Web Design
WordPress Design


Events 
Audio Engineering
Bartending
Catering
Corporate Events
DJing
Event Coordination
Event Photography
Event Planning
Event Production
Floral Design
Live Events
Photo Booths
Product Launch Events
Sound Design
Trade Shows
Wedding Officiating
Wedding Planning


Finance 
Budgeting
Financial Accounting
Financial Advisory
Financial Analysis
Financial Planning
Financial Reporting
Insurance
Loans
Retirement Planning
Wealth Management


Home Improvement
Architecture
Interior Design
Landscape Design

Information Technology 
Backup & Recovery Systems
Computer Networking
Computer Repair
Cybersecurity
Data Recovery
Home Networking
IT Consulting
Network Support
Telecommunications


Insurance 
Auto Insurance
Commercial Insurance
Health Insurance
Homeowners Insurance
Insurance
Life Insurance
Small Business Insurance
Title Insurance


Law 
Bankruptcy Law
Business Law
Consumer Law
Copyright Law
Corporate Law
Criminal Defense Law
DUI Law
Divorce Law
Entertainment Law
Estate Planning Law
Family Law
IT Law
Immigration Law
Intellectual Property Law
Labor and Employment Law
Legal Consulting
Notary
Patent Law
Personal Injury Law
Property Law
Startup Law
Tax Law
Trademark Law
Trust and Estate Litigation
Wills Planning Law


Marketing
Advertising
Blogging
Brand Marketing
Content Marketing
Content Strategy
Demand Generation
Digital Marketing
Direct Mail Marketing
Email Marketing
Event Marketing
Growth Marketing
Lead Generation
Market Research
Marketing Consulting
Marketing Strategy
Mobile Marketing
Performance Marketing
Product Marketing
Public Relations
Real Estate Marketing
Search Engine Marketing (SEM)
Search Engine Optimization (SEO)
Social Media Marketing


Operations 
Administrative Assistance
Appointment Scheduling
Customer Service
Customer Support
Data Entry
Data Reporting
Executive Administrative Assistance
File Management
Filing
Human Resources (HR)
Invoice Processing
Online Research
Outsourcing
Payroll Services
Personal Assistance
Program Management
Project Management
Research
Strategic Planning
Technical Support
Transcription
Typing
Virtual Assistance


Photography 
Commercial Photography
Corporate Photography
Event Photography
Food Photography
Headshot Photography
Nature Photography
Pet Photography
Photo Booths
Portrait Photography
Real Estate Photography
Restaurant Photography
Sports Photography
Stock Photography
Video Animation
Video Editing
Videography
Wedding Photography


Real Estate 
Commercial Lending
Commercial Real Estate
Mortgage Lending
Property Law
Property Management
Real Estate
Real Estate Appraisal
Real Estate Marketing
Relocation


Software Development 
Android Development
Application Development
Business Analytics
Cloud Application Development
Cloud Management
Custom Software Development
Database Development
Enterprise Content Management
Information Management
Information Security
Mobile Application Development
SaaS Development
Software Testing
User Experience Design (UED)
Web Design
Web Development
iOS Development


Writing 
Blogging
Content Strategy
Copywriting
Editing
Ghostwriting
Grant Writing
Technical Writing
Translation
User Experience Writing
Writing


View all services and the number of providers per industry in the following link (Click Here)
---
Now that you've learned additional targeting options go to your LinkedIn and test your knowledge creating a new search and a new sequence in your Cloudkennect tool.
---
If you have any questions regarding "Advanced LinkedIn Filtering Options" contact us at support@kennected.io