Users with a LinkedIn Premium or Sales Navigator account can take advantage of the Kennected InMail feature. Learn more by following the guide in the article below.
(Last edited March 25th, 2022)
The Kennected software allows all Premium and Sales Navigator users to send up to 200- 300 free Inmails per month.
In this article we will share:
All about Inmails
Insightful Tips when Crafting Inmails
Steps to create an InMail sequence
---
First, let's start with what is an Inmail.
InMail is a credible, private, and customized messaging tool helping you contact 2nd-degree connections with 1 message and no invite.
Why are they free Inmails?
It will not consume any of your Inmail credits from your LinkedIn Premium or Sales Navigator.
Who can receive my Inmails?
Only profiles who have turned on "Allow Inmails" in their LinkedIn profile settings (OPEN Accounts)
We suggest targeting 2nd-second degrees. Third degrees most likely are not going to be able to receive Inmails based on our testing.
Insightful Tips:
InMail will count against your total messages per day.
Targeting 2nd-degree connections is highly recommended.
30 Inmails per day are suggested
Only profiles who are open to receiving messages will receive Inmails.
A LinkedIn Premium or Sales Navigator account is required to use the feature.
---
Insightful Tips when Crafting Inmails
Create a hyper-targeted search and engage with insights. You only get a limited quantity of Free InMails each month, so optimize the quality of your message.
Write a compelling subject line:
The Inmail is very similar to an email. Therefore, grab their attention immediately by including a business topic and/or a personal touch in the subject line.
More than half of InMails are read on mobile. Keep your personalized message brief - 150 words or less - to increase your likelihood of response.
Use InMail to start the conversation, not seal the deal. Use InMail to open the door - "Would you be open to a 15-minute call on Thursday at 10 AM?"
---
Steps to create an InMail sequence:
Click on "Add New"


Click "Free InMail"


Add "Sequence Name" + "Set Working Hours", click "NEXT"



Paste the URL + hit "ENTER" then click "Next"


Select "Set message", and type in your InMail message.
You get up to 200 characters for your subject line and 2000 for your message body.
Be brief to increase the response rate.



Once finished, click "Submit"
---
Steps to search for Target Audience using regular LinkedIn search:
Go to your LinkedIn Profile
Start your search with quote marks (") and type the name of the position, company, or keyword that you are targeting


Enclose the phrase in quotation marks if you want to target a multi-word title and combine keywords with Boolean expressions like AND, NOT, and OR during your search

If you would like to search for prospects with several titles in their profile use the word AND
If you would like to target different prospects in one search use the connector OR
If you would like your search to exclude a title use the connector NOT

Press Enter and start your search
Select "People"
Click on the "Connections" dropdown, click "2nd" then click "Apply"



Filter your search by "Locations" if you want



Another hack is you can type the name of the location you are targeting in the search field.


If you would like to filter your target by Industry, Companies, Language or Interests, click on "All Filters"




Paste the URL under Define Target Audience while building your sequence
---
Steps to search for Target Audience using Sales Navigator Saved Search:
Access your Saved Searches

2. Choose a
Saved Lead Search


3. Notice the URL says
"savedSearch"
, this is why the search is not compatible with CloudKennect.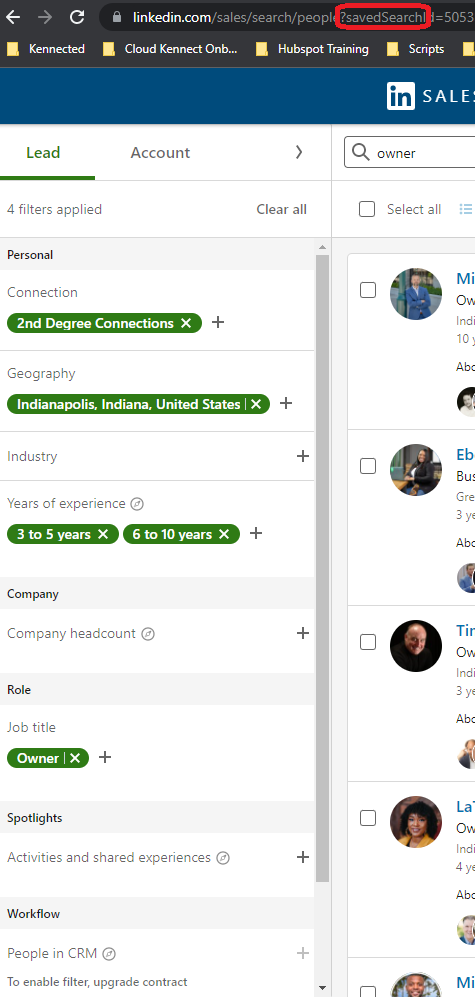 4.
Remove
any of the filters from the left side, this will reset the URL into a compatible one. Make sure that the
Connection
is
2nd Degree Connections
.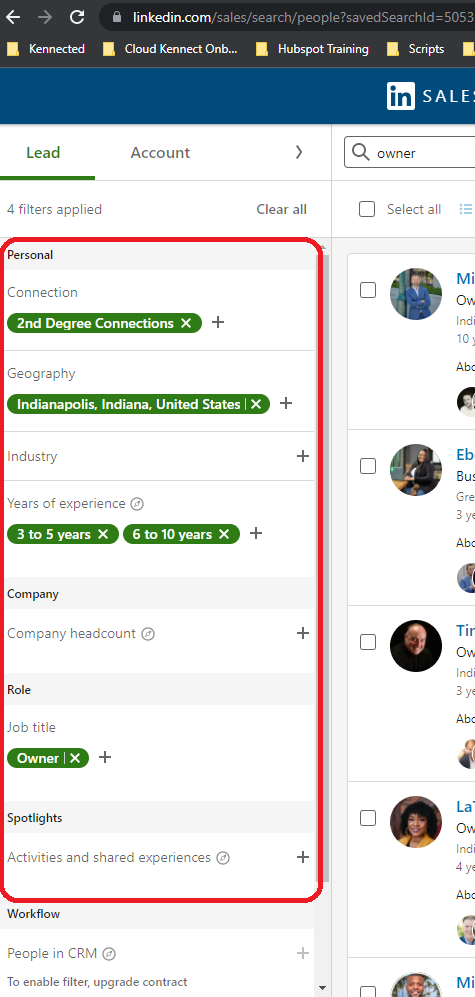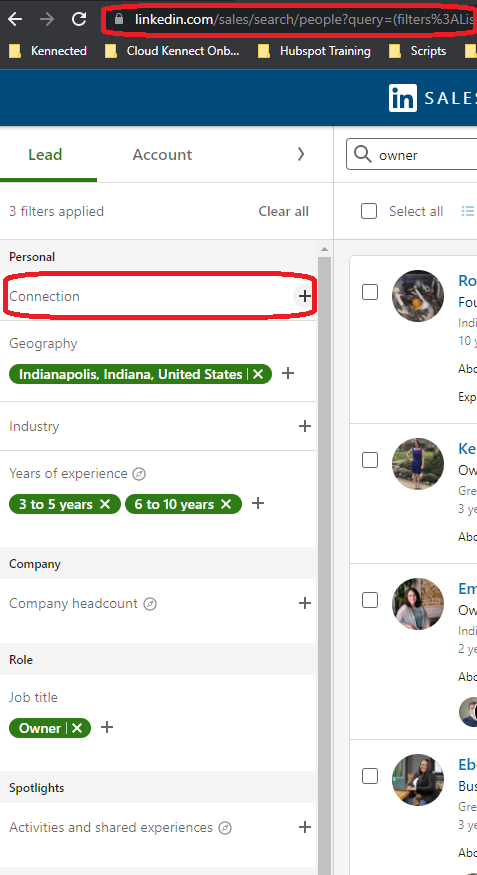 5.
Re-apply
the filter you previously removed.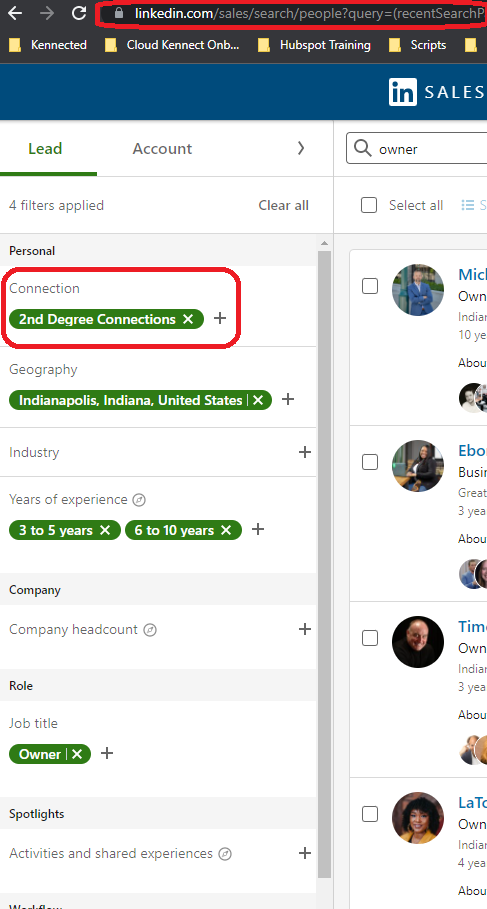 6. Copy the URL and use it in your CloudKennect Sequence

The following article will walk you through how to create a lead list for your sequence (Click Here to View)
Only Premium LinkedIn users or those who have Sales Navigator are able to send Inmails.
Note: If you have any questions regarding "InMail Messages" contact us at support@kennected.io or file a ticket at the top of this page