Every month, up to 50 InMail messages go unused as credits roll over to the next month. Don't let yours go to waste.
LinkedIn Premium users can benefit from InMail credits, which dictate the amount of messages you can send to 2nd and 3rd degree connections each month. Different Premium accounts have different credit limits.
If an InMail message is responded to - whether accepted or rejected - within 90 days then it's credited back to your account.
KennectedReach finds that many users roll over their credits month by month without properly utilizing their potential. Here's how you can automate KennectedReach to make the most of your InMail credits:
1. Begin by heading to "Settings" in the left-hand menu and then selecting "Account Limits".

2. Find the slider at the bottom which reads "InMail credits per month". Adjust this according to the number of InMail credits you want KennectedReach to use every month.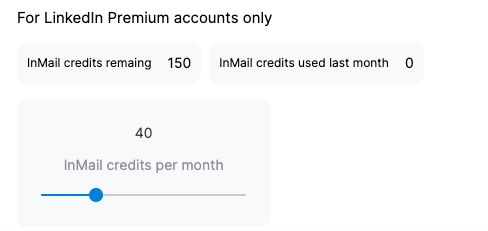 3. Next, start creating a campaign and proceed until it's time to add the InMail action.
4. As you're adding the InMail action, select the option "Allow KennectedReach to use my InMail credits".

5. Complete your campaign, and KennectedReach will now automatically use your InMail credits!