Forwarding prospects and correspondence to your email is easy with KennectedReach.
One of the many useful features of KennectedReach is the forward-to-email tool, which allows you to send any prospect or conversation to any email address, even if it's not directly connected to your KennectedReach account.
While any email correspondence automatically syncs with any connected email integrations, such as Gmail, there may be times when you want to send a prospect to a colleague's email or a personal address that hasn't been connected to KennectedReach.
It's easy to forward your correspondence to another email address. Just follow the very simple steps below.
1. Head to your inbox via the left-hand menu on your dashboard.
2. Click on the prospect you want to forward and look to the top right-hand corner for a symbol with three horizontal lines.

3. Click on this symbol and then on "Forward to Email".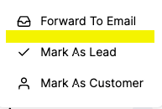 4. Enter the email address you want to forward the prospect to, and hit the forward button.