We are moving to OAuth!
Kennected's old integration with HubSpot was an API integration, which means the two applications were connected through the key set up from one of our specialists.

HubSpot is discontinuing their API integration between platforms and moving to a more secure integration in OAuth integration. We have been working with HubSpot to ensure the OAuth integration is more secure and bug free as possible.

For users that are currently connected with API integration, do not worry! This video explains how to connect to the new HubSpot OAuth.
If you are currently connected to HubSpot via the API integration: The new HubSpot settings tab will not appear until you have disconnected. You can do so under the existing HubSpot settings. Once you have disconnected, navigate to another tab (ex. Dashboard), and then it will appear in your integrations tab.
---
Please note the video may look slightly different than your dashboard


Step by step process:
Step 1: Open up cloudkennect
Step 2: On the left hand side of your screen, navigate to the integrations section
Step 3: Click on the Integrations section


Step 4: Click on the New HubSpot (Beta) section

Step 5: Click on the teal "Connect HubSpot" button


Step 6: Once clicked, a browser will open with a hubspot login
Step 7: Choose the account you would like to connect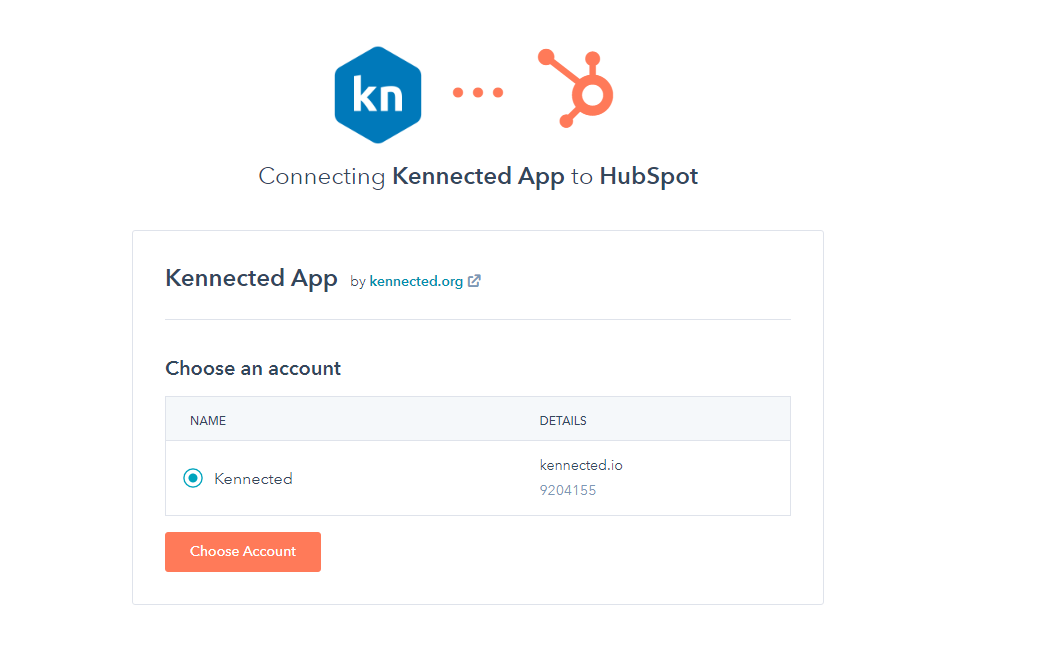 Step 8: Once chosen, click on the orange button "Choose Account"
Step 9: Once the hubspot portal has been connected, navigate to the owner details on the right
side of the HubSpot settings inside of cloudkennect
Step 10: Click on "change owner"
Step 11: Once clicked, press the owner you would like to select
Step 12: You are all set up! Steps 13 and 14 are optional for users who would like prospects sent
to HubSpot on acceptance of connection messages


Step 13: (optional): Click on "create contact automatically on acceptance"
Step 14: (optional): Click "ON"