Personalization tags are used to help establish rapport with your target audience. Learn how to leverage them by following the guide below.
---
(Last Edited April 11th, 2022)
Personalize your message in your Sequence Setup with the Insert Tag feature
The tags can be found in the message window when creating your Connection Message or Follow-Up. Tags can also be found when creating Templates.
Our software plugs LinkedIn user profile information into the message to add a personal touch.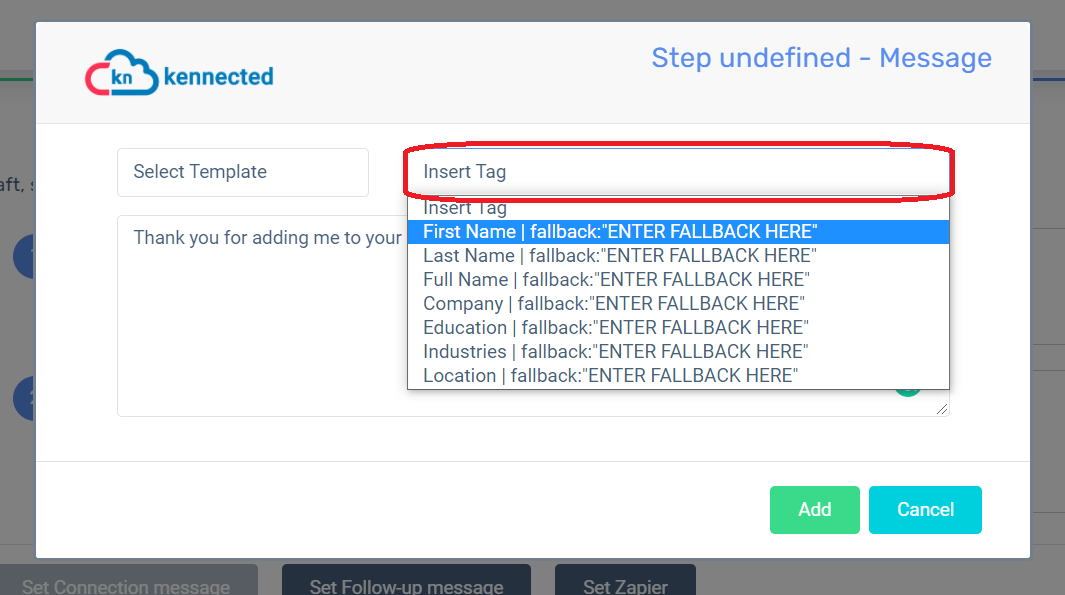 Note: "ENTER FALLBACK HERE" is an alternative piece of data that you want to add just in case the subject that you want to call out is not available in their LinkedIn profile.
Select the following tags when reaching out to:
All {firstname | fallback:"ENTER FALLBACK HERE"}

Ex: {firstname | fallback:"there"}

Dr. {lastname | fallback:"ENTER FALLBACK HERE"}

Ex: {lastname | fallback:""}

Work Place {company 1 | fallback:"ENTER FALLBACK HERE"}

Ex: {company 1 | fallback:"your company"}

Alumni {education 1 | fallback:"ENTER FALLBACK HERE"}

Ex: {education 1 | fallback:"your school"}

Industry {industries | fallback:"ENTER FALLBACK HERE"}

Ex: {industries | fallback:"your industry"}

Location {location | fallback:"ENTER FALLBACK HERE"}

Ex: {location | fallback:"your location"}

Note: If you have any questions regarding "How to Use Tags in Messages", contact us at support@kennected.io or file a ticket on the top of this page