Labels are a great way to categorize your prospects and get the best out of KennectedReach. Here's how to use them.
Assigning labels to your prospects will help you achieve maximum efficiency and get the most out of KennectedReach.
To create and manage your labels, just follow the simple steps as outlined below: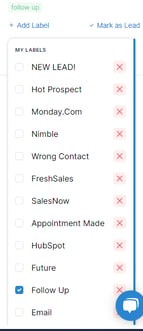 1. Firstly, you'll want to head to your inbox. You can get there from your home dashboard, just head to the menu panel on the left-hand side
2. Next, click on the prospect you want to label and then "Add Label" - found underneath the prospect's name on the right-hand side.
3. The dropdown menu will display all the labels you've already created, but you can also select "Create New Label" to add any additional labels you might want.
Using labels to filter prospects
Labels are a great way of switching between different prospects for different campaigns and sorting the leads from the customers. Filtering your prospects with labels can optimize your efficiency and give you further insights into who is worth pursuing.
If you're looking to export your prospects, labels are certainly a good idea. They remain attached to your prospects, so if you export them to Microsoft Excel, for instance, you can easily filter and sort your prospects.