Read this guide to learn all about scheduling messages to prospects, leads, and customers alike.
So, you've had a reply from a prospect asking to message them again in a week's time. How do you go about this without updating your calendar and setting reminders? With KennectedReach, that automation is done for you.
What's more, it's so simple to set in motion. Read these few simple steps to schedule messages to prospects without having to remember a thing.

1. Head to your inbox from the panel on the left-hand side of your dashboard.

2. Find the person you want to schedule your message to and click on their chat.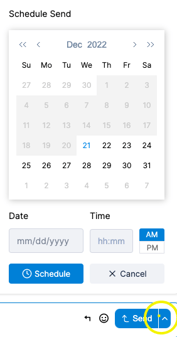 3.Type in the message you want to send, but don't click on the send button.

4. Instead, click on the small arrow just next to where it says "Send" and a small calendar will pop up.
5. Choose the date and time you want to send your message and click the blue "Schedule" button.


Once you've done this, KennectedReach will schedule your message to be sent at the chosen date and time. You won't have to worry about missing a follow-up ever again!