With so many outgoing messages, you'll certainly be looking to filter through them all!
With KennectedReach's automation capabilities, your inbox will fill up in no time. But with hundreds of messages to potential customers, leads, and prospects, it can be hard to keep track of each individual correspondence.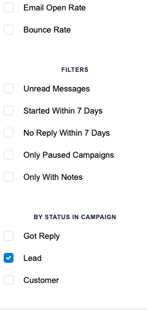 By filtering your inbox, you can get straight to the prospects you're looking for. All you need to do is apply some labels to your prospects, and look for the filter icon in your inbox.
As well as filtering by label, you can also filter by campaign, campaign status, statistics, and by other miscellaneous filters.
This ensures you can find exactly what you're looking for among your busy inbox across multiple campaigns.