Follow this guide to successfully and easily make copies of your campaigns.
Duplicating campaigns may be required for a number of reasons. For one, you might want to duplicate a campaign that's performing well for you, so that you can target another group of prospects.
Or maybe you just really love the copy that you've written in one campaign, and want to transfer this to a different campaign? Whatever your reason for duplicating a campaign, it's really easy to do.
Just follow the simple steps below to successfully duplicate a campaign.
Go to "Campaigns" from the left-hand side menu of your home dashboard.
Find the campaign you want to duplicate and click on the three dots at the right-hand end of its widget.

Click "Duplicate Campaign". This will bring up the campaign creation window all ready-made with the title, copy, and actions from your selected campaign.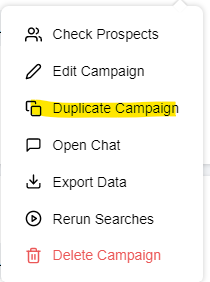 Now all you need to do is simply retitle your campaign and add a new search. You can even edit the actions slightly if you want.
Once you're done, click on "Start Campaign" at the bottom.