Read our guide on how to quickly access all your prospects for a given campaign.
Are you running a campaign and want to check which prospects are involved in it? There's several ways you can do this, one of which is by filtering your prospects by campaign.
The easiest way to do this, however, is to check them from your campaigns tab. Head there from your home dashboard and find the campaign you want to check your prospects for.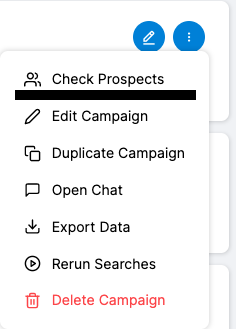 Next, find the symbol with the three blue dots at the end of the campaign's widget. Clicking this will bring up a number of options, the top of which is "Check Prospects".
Clicking this option will take you to your prospects page and automatically filter them by that specific campaign. Now you can view all the people related to that campaign.