Use the archive and star tools to efficiently sort your KennectedReach inbox!
Sorting your KennectedReach inbox is not only possible, it's really easy to do. The archive and star options allow you to do a bit of digital housekeeping and keep your inbox neat and tidy.
KennectedReach users find this helps them to stay on top of their correspondence (because you'll most likely have a whole heap of messages to go through!) and lets them achieve maximum efficiency.
To find out how to archive and star messages, follow the simple steps below: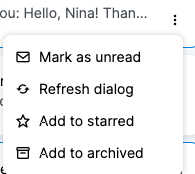 1. Head to your inbox. You can get there by clicking "Inbox" on the left-hand menu on your home dashboard.
2. Find the conversation you want to star or archive and click on the symbol with the three vertically-arranged dots. You'll find this next to their name.
3. Next, click either "Add to starred" or "Add to archived", depending on how you want to categorize the conversation
4. At the top of your inbox, just under the search bar, you'll find a list of mes
sage categories. Scroll across to find "Starred" and "Archived", so you can find any marked conversations quickly and easily!