Learn how to create a support ticket on LinkedIn if you find yourself in "LinkedIn jail" or with a restriction.
---
(Last Edited March 29th, 2022)
Support Tickets on LinkedIn
If you find yourself in LinkedIn jail and you need to submit a Support ticket to them to remove the restrictions, follow the video tutorial or continue reading the steps below:
On your LinkedIn profile, look for "Help Center"


Scroll down and click "Contact Us"


Select "Get help from us"


Click on "Other"

, type in "Support" in the search field and you should see the option to "

Create a Support ticket"


Fill out the information required by choosing it from the dropdown menu and type in your question
---
Caution: DO NOT mention anything about using an automation tool. While automation tools are allowed on LinkedIn as long as they follow the guidelines, mentioning its use in this case, may affect the verdict regarding account restriction.
Sample:
"I rely strictly on my LinkedIn network to keep my small business afloat. I understand I may have been aggressive in the past, but I fully understand the outreach limits now on my LinkedIn account. Please lift my ban as I require full access to my account in order to run my business."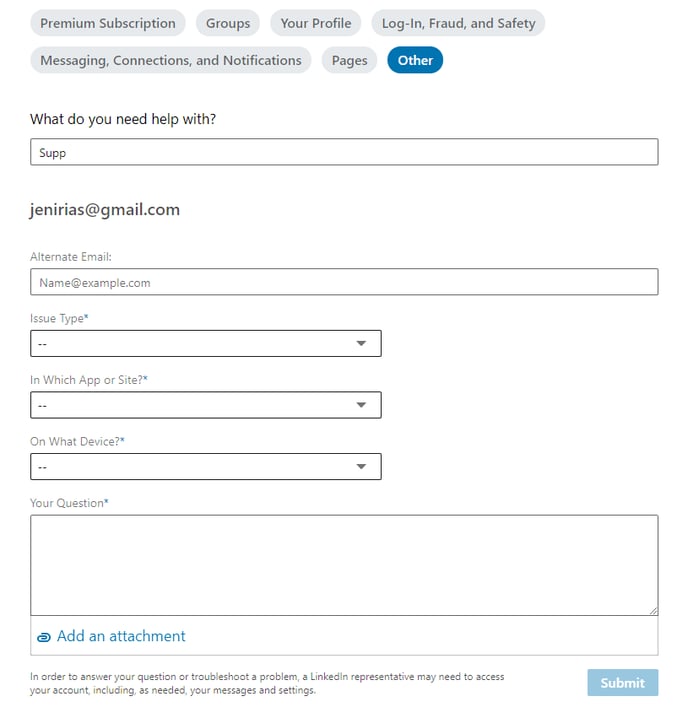 Note: If you have any questions regarding "Creating a LinkedIn Support Ticket", contact us at support@kennected.io or file a ticket on the top of this page