Why does my inbox show the message time stamp being outside of working hours?
---
(Last Edited April 11th, 2022)
"How long does it take to send invitations to new prospects?"
It will typically take between 1-3 minutes before an invitation is sent out. This is a security feature of Kennected to help ensure the safety of your LinkedIn account. Random intervals between sent requests are implemented to mimic human behavior
Your invitations and follow-ups will be sent during the working hours you have set up for your sequences


"Someone received my connection message outside of my working hours!"
The connection message was sent when you sent out the invite, but it will populate inside of your Kennected Inbox when your prospect accepts the connection invitation (which could potentially be outside of working hours)
Notice the 2 different timestamps in the image below.
The Activity will show you the time the invitation & connection message was sent.
The message in the inbox will appear when the prospect accepts the invitation.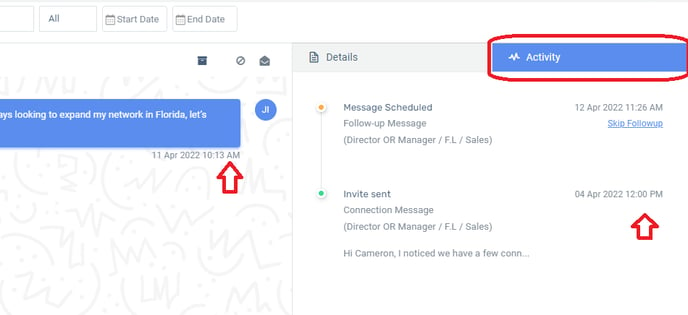 "If someone accepts my invite at 1:00 am and my delay for follow-up is 37 minutes, will they receive my message at 1:37 am?"
No, the follow-up message will remain in the queue and will be sent within the working hours of the respective sequence
Note: If you have any questions regarding the "Connection & Follow-up Message Delay" feature, contact us at support@kennected.io or file a ticket on the top of this page